Tips and Tweaks
Easiest Methods for, How to Transfer Files from Android to MAC?
The tools provided here will give you the easiest method of transferring your media, and files between Android and Mac.
An Android device would not be able to get connected to the iOS device's easily, the main reason behind this is that the two devices are working on two different platforms, as you know.
Unlike any other PC, it transferring data between Android and MAC doesn't have that much flexibility.  Since the Mac devices don't support the plug and play functionality of the Android devices, we just found an easy method to create the connection between Android and Mac to transfer their files and data.
We are here sharing the most easiest tools to transfer any data between Android and MAC!
How to Transfer Files from Android to MAC?
Handshaker
The Handshaker app provides you the most simple and easy user interface for transferring the files between Mac and Android device when both are connected through the USB cable. To check how does the App work, first download the App from below, and proceed to the steps given below.
Developer: Smartisan Technology Co., Ltd.
How to use the Handshaker App:
After Installing Hanshaker on the Mac, open the app.
Now, Connect the Android via USB cable to the Mac.
An Android app will get installed on your Android device,
Now reconnect your Android to the Mac
And you shall be able to see all your files and folder in the Handshaker App.
Now you can Transfer the files and media of your choice just through copy-paste or drag and drop options.
AirDroid
It is the most popular multi-platform App that enables you to share the files, mirror cast the notifications and messages etc all between the Android and Mac. AirDroid app that has brought iOS 8 like Continuity features to Android devices since long before Continuity ever existed. Exactly, the AirDroid makes your multi-screen life easier and more focused on helping you access and manage your phone from any computer, anywhere.
Before proceeding to know how to use Airdroid, download the app from below links:
How to use the AirDroid:
After installing AirDroid on your Mac and go to Airdroid web client on the Mac using My browser.
Tap on the QR option inside the Android app through your phone's camera and confirm the QR code of web client on Mac.
Now, Sign in to your Android device through the App
That's it! you'll now be able to share the files among your Mac and Android.
You can also do many other things over the app, like sending SMS, viewing app notifications, transfering files and taking fully control your phone from the computer with AirDroid.
See Also : How To Get Pixel Like On-Screen Navigation Keys On Any Android Smartphone (No Root)
SHAREit
SHAREit is another popular App that helps to share files and media along cross platforms. The lenovo developed app allows its user to transfer original files without losing quality, as fast as 200 times faster than Bluetooth, that goes up to 20M/s.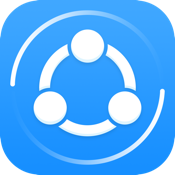 Developer: SHAREit Technologies Co. Ltd
How to use SHAREit:
Open this app in both Mac and Android.
First of all, Tap Recieve on your Android SHAREit and tap on connect to the PC option from there.
After that tap on Scan and Connect option.
Now, Point your phone camera to the QR code on your Mac and then it would be connected to the Mac.
Tada! You're now ready to Drag and Drop your file inside the SHAREit app and it will be transferred to the other device.
These are the easiest and popular appy methods to transfer data from Android Device to MAC. For more helpful guides stay with the5g.in 🙂 and Don't forget to subscribe us.